#orphans8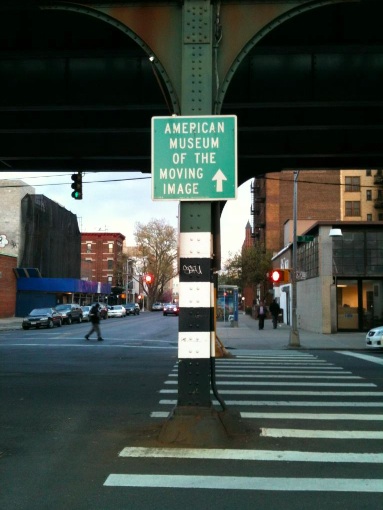 Go straight ahead!
8th Orphan Film Symposium: Made to Persuade
11–14 April 2012 at Museum of the Moving Image in Astoria, Queens, NYC
A preliminary tweet by
@retoch
Tweets by
@RetoKromer
NYC, I'm coming! Officially for #orphans8. – «Haimish to Haute in New York» by Adeena Sussman
forward.com/articles/153762/haimish-to-haute-in-new-york/
I'm trying to reach Astoria, Queens, NYC. Do I have to turn left or right?
«My favorite thing is to go where I've never been.»
~ Diane Arbus
The city of Geneva, NY, claims it's the «Lake Trout Capital of the World.»
«Oh! C'est haut, c'est haut New York»
~ Serge Gainsbourg
Let's paint the town red tonight!
Die Hochbahnkatastrophe by Valy Arnheim (DE 1921)
nano.reizfeld.net/filmarchiv/paimann/1921/Paimann_292_1.jpg
«Archivists who don't like film are like eunuchs in a harem.»
~ Tom Gunning
#orphans8 showing Bell Labs films / «The Idea Factory: Bell Labs and the Great Age of American Innovation» by J Gertner
www.wired.com/underwire/2012/04/the-idea-factory-bell-labs
Yvonne Zimmermann about Die Börse als Barometer der Wirtschaftslage by Hans Richter
reto.ch/cgi-bin/filmo.pl?what=Die%20B%F6rse&where=title
Orphan films or bastard films, that's a question… #orphans8 #bastards8
«Lillian Schwartz Sees in Four-Dimensions» by Walter Forsberg
incite-online.net/forsberg3.html
#3D (thanks @jubilantpeeps)
The World Is Ours (1938). Or, more precisely, 65% of your «celluloid dollar»!
Frank Tashlin's «puppets tableaux vivants» in The Way of Peace (1947)
One Friday by Rolf Forsberg (1973) is quite impressive. And problematic. Happy to have seen it.
Crowd translation of Arabic and Russian film labels is needed: 124 of 850 records translated
afilmarchive.net/about
Astoria, Queens, NYC with all the trimmings.
So happy to having seen Men in Dust by Lee Dick (1940): the abstract sound design fascinates me a lot!
#experimental
The Jungle is an other powerful film at #orphans8. The gorgeous opening a little tricky in the booth… considering sharpness.
The Orphan Film Symposium has remembered
Alan Stark (1945–2011)
preservationist, musician, mensch
¡Muchas gracias Orphanistas del mundo! ~ Seeing you all again in 2014 in Amsterdam.
---
2016–12–11