Home, Sweet Home
Hey, man! You look like an old version of Harry Potter.
~ on a pedestrian crossing at Canal Street in Nola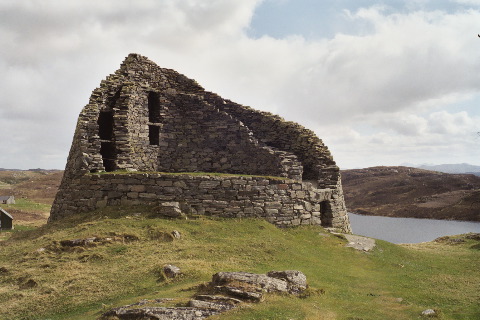 Dun Carloway (Lewis) is the best-preserved broch in the Western Isles,
and one of the finest in Scotland.
The Castle's Lord
Reto Kromer was born in 1963 and is not dead yet. Having graduated in mathematics and computer science, he became involved in audio-visual conservation and restoration as early as 1986.
Since 2004 he has been running his own preservation company, AV Preservation by reto.ch, providing comprehensive services that encompass the whole range of moving image preservation. Previously he was head of preservation at the Cinémathèque suisse (the Swiss National Film Archive), in charge of cataloguing, conservation and restoration of the film collection, from 1998 to 2003.
He has been a lecturer at the Bern University of Applied Sciences since 2002, at the Academy of Fine Arts Vienna since 2011 and at the Elías Querejeta Zine Eskola in Donostia (San Sebastián) since 2019. He was also a lecturer at the University of Lausanne from 2007 to 2015. His courses cover the conservation and restoration not only of audio-visual content but also audio-visual carriers, usually with a focus on technical issues and movie picture film. His current research is mainly in the digital domain and includes colour spaces, look-up tables and codec programming and emulation.
He was a director of the board for the Association of Moving Image Archivists (AMIA) for two terms, from 2012 to 2016, and he served as a board member of the Albanian Cinema Project (ACP) from 2012 to 2017.
In 2019 an inaugural Joint Technical Symposium Award (JTS) was presented to him "for extraordinary contributions to the technology of the audiovisual archiving field."
Recent publications include
Agathe Jarczyk, Reto Kromer, Yves Niederhäuser and David Pfluger:
Reto Kromer: On the Bright Side of Data Migrations. In IASA Journal, n. 49 (December 2018), IASA, p. 18–22
Reto Kromer: Matroska and FFV1: One File Format for Film and Video Archiving? In Journal of Film Preservation, n. 96 (April 2017), FIAF, Brussels, Belgium, p. 41–45
Tweets
Note: I had to block 5 265 accounts until 2022-07-30. If you are one of them, that means you have posted antisemitic content on my timeline. Period.
---
2022-07-30