#gcm32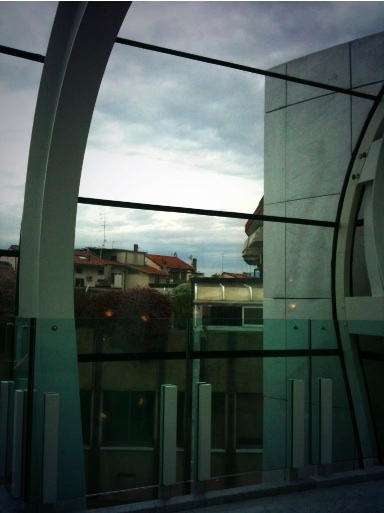 Verdi.
Le Giornate del Cinema Muto / Pordenone Silent Film Festival
32nd Edition (5–12 October 2013)
Preliminary tweets before the festival
Tweets durung the festival
Blancanieves opened the Pordenone Silent Film Festival. Hmm… What is a silent film really?
If the image in well polished but the recorded sound very saturated, somethings is wrong… and I am unable to appreciate the movie!
Interlaced video and progressive scan are different thing. Really. – And deinterlacing has nothing to do with magic. Really.
According to the programme at the Verdi, 63.7% of the silent films have been released on 35 mm, 34.7% on DCP and 1.6% on other formats.
I'm missing at least one technical session at this year's Collegium. One proposal could be: deinterlacing between magic and science.
According to the weather forecast on Wednesday it should be a little sunny. Otherwise, no excuses, you must watch movies!
Hier soir j'ai pris le fric avec un petit mousqueton.
#ÉnoGastronomieLocale
.@ng_yvonne I'm a fan of the FFmpeg movement and of the FFv1 codec. You can use it within a Matroska container. Hi #iasa2013 form #gcm32!
«17.8 fps» ~ David Robinson
(I heard only this fragment of a discussion he had this morning with a charming lady.)
What's the fee? RT @silentlondon: Thinking of forming a Karin Swanström fan club. Who wants to join?
Seen from the long winter in the north of Sweden, London is a very sunny city indeed.
Had a business dinner with Livio Jacob and Aldo Bernardini last evening. ~ Feeling important!
When modern technology fails, a live translation of the inter-titles during the screening in the theatre succeeds. Danke!
An impressive, gorgeous shot of a big bridge with in the top of the image a little train passing from left to right. (Corrick Coll.)
[For a future Collegium:] How can the division into acts be respected in a DCP exhibition, without destroying narration's rhythm?
Traditional quick lunch w/ Carlo Montanaro & funny subtitling team working from 08:50 till late night: Evelyn Dewald & Edward Catalini
Suicide attempts and hurting teeth have been the most relevant subjects of this afternoon's rediscoveries.
Cigarette smoke and running water are very photogenic indeed. Yet also chemical film decomposition sometimes can be so.
Gratitude obsédante (Lux, FR 1912) a aussi des couleurs qui parfois deviennent vraiment obsédantes. ~ Ou est-ce moi?
Not only on the screen: the weatherman is bad to us too! Felix the Cat Weathers the Weather by Otto Messmer (USA 1926).
The fascinating time when cinema was somewhere between silent and sound film: Konstgjorda Svensson by Gustaf Edgren (Sweden 1929).
Many years ago I saw a horrible 16 mm copy of Menschen untereinander. I have been very happy to see it again, restored and as a DCP!
Why does one completely stabilise the image vertically, but not horizontally? I definitely disagree with!
#digital #film #restoration
In my opinion, the #minimal #density of a photochemical «original» film should be considered also when establishing its digital copy.
Is there really nowhere a better, brighter copy of the masterpiece Scherben by Lupu Pick (German 1921) available?
A long and interesting programme on Joly-Normandin films. An almost square image is nice too: an antidote for today's 16:9 hysteria?
You like in 5-perf square 35 mm images? Don't miss Irela Núñez del Pozo's book Henri-Joseph Joly: quando lo schermo era quadrato.
A workshop on correct DCP encoding of legacy films should take place next year in Bern – and perhaps also in København and Bologna.
«O tempora, o tempestates!»
~ Marcus Tullius Cicero attending #gcm32 this morning
Fascinating «abstract» interferences in the foreground at the beginning of Prince of Wales visits Launceston by Leonard Corrick.
The photography of Brigandage moderne by Ferdinand Zecca (France 1905) is outstanding. Could watch to it for hours without a plot.
Ah, the old good times! During a car race one participant could stop and watch another's accident: Circuit de Dieppe 1907.
I hope the full Ironie della vita by Mario Roncoroni (Italy 1917) will be found soon. The shown fragment is promising & intriguing!
#gcm32 is over… Sadly I will not be able to attend #gcm33, because it takes place during the same week as #amia14. I am so unhappy!
An additional tweet after the festival
---
2016–12–11